ANGELS MUSIC DJ PACKAGES AND DEALS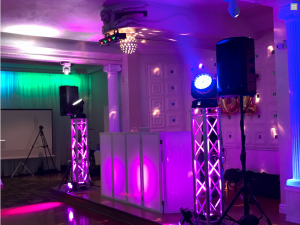 Mobile DJ Packages And Photo Booth Deals
Angels Music DJ Packages and Deals are made for you! We are experienced in wedding ceremonies and reception work. Our professional services include assistance in monitoring the flow and scheduling of your event. Depending on your individual desires, we will help direct guests to follow the scheduled timeline of events, Our DJ's will arrive properly dressed and in a professional appearance. They will follow all instructions and work well with other vendors, reception staff and all other event staff.
Based on our experience we know that no two weddings are the same. We meet with each of our clients beforehand to discuss the details of your event and your preferences to create a custom plan. We will discuss all special requests and offer you our professional point of view.
Your wedding day is a special event! You and your family come together to celebrate the joining of two individual souls, you deserve the best quality of entertainment. We feel privileged to take part in your event and will provide you with professional DJ services.
We pride ourselves on offering you professional services and endless musical possibilities to make your next event truly unforgettable.
Our Music Range from 80s, 90s, Israeli, Classic Rock, Disco, Hip-Hop, International, Jazz, Latin, Persian, R&B, Top 40/Pop, EDM, Trance and more based on your preferences.
Read More:
List Of The Ultimate First Dance Songs
TOP 10 Bar Mitzvah Venues in Los Angeles
Beginners Guide To Wedding Planning
4 Reasons You Should have Photo Booth in your event
Questions To Ask A DJ Before Your Event